Chronicles
A downloadable game for Windows
Chronicles is a 2D-adventure game with survival aspects, featuring pixel-art in the classic 3/4-perspective. The player takes control of a young cartographer, who got lost on his first expedition and is trying to find his way back home. Stranded in a strange land, he must cooperate with odd, stone-clothing wearing villagers and learn to survive on his own by crafting tools and hunting wildlife.

Specs
Genre: Adventure / Survival
Engine: Unity
Players: Single Player
Controls: Keyboard
Platform: PC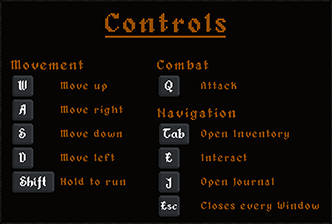 Press F1 to open the controls screen in-game.
You can take screenshots by pressing F12.

Team Puntheon
Game Design: Christos Doukas
Level Design / Narrative Design: Alina Quentmeier
Programming: Enrico Ludwig
Character Art / GUI: Luna Tiefensee
Creature Art / GUI: Carolin Mallwitz
Environment Art: Bao Chau Nguyen
Production / Audio: Tom Achsel

Background
Chronicles is a student project we created in our second semester at Games Academy, Berlin. The uploaded game is the goldmaster version, as shown for our final presentation. The scope is that of a demo or extended prototype.
Please note that we're no longer actively working on this project.

Editor
Included in the .zip folder is the custom-built editor we used during development. With this tool we were able to make balancing and other changes even to an already existing build of the game.
Functions include:
creation and editing of character sheets
creation and editing of in-game items and crafting recipes
creation of linear dialogue-trees and journal entries
balancing of various in-game variables
Download
Download
Chronicles_Itch_Release.zip
67 MB