A Scholars Tale
A downloadable game for Windows
Dies ist ein Projekt welche im Rahmen der Projektarbeit der Games Academy innerhalb von 8 Wochen erstellt wurde.
A Scholar's Tale
An artistic platforming experience about the joy of movement, in which a lonely scholar seeks escape from his dismal life by diving into a mysterious book to embark on a journey into a fairytale land where ultimately nothing is as it seems.
Goals & Specifications
When envisioning A Scholar's Tale, the development team aimed for three goals. First, we wanted to tell a story that sticks even after completing the game. That's why the narrative is built around the subject of escapism thus drawing a natural parallel between players and the scholars motivation. Secondly, exploring the world has to feel effortless and convey a sense of joy through free, low-gravity movement. Last but no least: once the curtains close, players should be left behind in a state of inner calm and reflectiveness.
Team Studio 403
Install instructions
Entpacke beide Rar Dateien in einem Ordner sollten Dateien doppelt kopiert werden klicke auf alle ersetzten.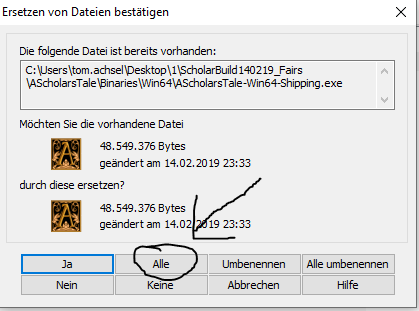 Download